Keep Water at Bay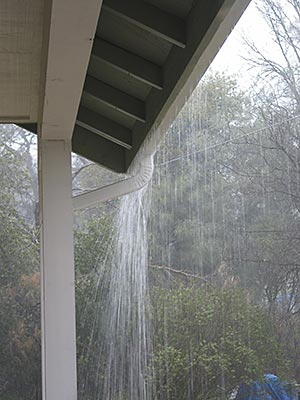 Water damage, whether caused by leaks or condensation, can do more than leave unsightly stains in your home. It can cause permanent structural damage and lead to many costly repairs. Here are some of the areas you should inspect regularly.
Roof
Check your roof for punctures, cracks or breaks. Clean any problem areas and apply a compatible patching compound or sealant. Repair loose, damaged or missing shingles, broken vent caps, raised nail heads and anything else that could pose a hazard. You should also examine rain gutters, downspouts and extensions for leaks or holes.
Outside walls
Examine your exterior siding to repair punctures and replace any missing or damaged fasteners or screws. Look under your home for sagging, tears or water spots which can indicate poor or damaged insulation that may cause water lines to freeze.
Doors and windows
Inspect exterior doors for wear and tear and cracking as well as the putty or caulking around metal windows. Clean and remove cracked or dried-out material and replace it with an upgraded sealant or caulk.
Inside your home
Look for discoloration on your floor which is usually a sign of a leak. Periodically check around the water heater, under sinks, behind clothes washers, and near your refrigerator. If you discover water damage, correct the problem immediately. If you can't fix the problem yourself, hire a qualified repair person.
Eliminate excess moisture
Keep inside air circulating with vents and fans to avoid condensation. Fix leaky faucets and dripping toilets, and invest in a good dehumidifier with humidity control. Use storm windows to help conserve energy and be sure the skirting around the base of your home is well ventilated and allows air to circulate freely.