Love Your Motorcycle?
Love Your Motorcycle?
Count on the specialists at Foremost to provide the customizable policies you want.
Foremost policies offer important standard and optional coverages that are geared toward motorcycles, and may not be available in a conventional auto policy. They also give you more security and value for your money.
Motorcycle Coverages
Foremost started in the specialty insurance business over 60 years ago and understands the coverages that are important to you. Count on the AARP® Motorcycle Program from Foremost to provide customizable policies that offer you the protection you want.
Important Available Coverages
Collision. Insures your bike from damage caused by hitting things like other vehicles, trees or telephone poles, regardless of who is at fault.
Other than Collision Coverage. Provides insurance coverage for other kinds of damage to your motorcycle such as fire, theft, flood, vandalism or contact with a bird or animal.
Safety Apparel Coverage. Automatically included with the purchase of Collision coverage and covers up to $1,500 in damage to any clothing, such as helmets and leathers, designed to protect you in an accident when the apparel is damaged in a Collision.
Optional Equipment Coverage. You'll automatically get coverage up to $3,500 (with the purchase of Other Than Collision coverage) for most accessories permanently attached to your bike such as parts, decorations, custom painting, chroming, side cars or other items that were not originally provided by the manufacturer as standard equipment. Higher limits are available.
Replacement Cost/Total Loss Settlement Coverage. You qualify for this coverage when you buy Collision coverage for bikes purchased new with a maximum Manufacturer's Suggested Retail Price (MSRP) of $35,000 (your bike must be replaced). If you qualify for this coverage and your less-than-two-year-old bike is destroyed by a covered loss, we'll pay to replace it with a brand new motorcycle of the same type. (This coverage is not available for custom motorcycles.)
Liability Coverage. Insures you against third party claims for injuries and property damage that result from an accident involving the covered motorcycle.
Passenger Liability Coverage. Provides insurance coverage to a passenger who is not an insured if you become legally liable to the passenger due to an accident.
Personal Injury Protection. Provides insurance coverage for an eligible person for the cost of personal injuries resulting from an accident while on the insured motorcycle. Available in limited states.
Medical Payments Coverage. Provides insurance coverage for medical bills incurred for injuries resulting from a motor vehicle accident.
Optional Coverages
Towing and Roadside Assistance with Trip Interruption Coverage. Provides 24-Hour emergency roadside assistance if you get a flat tire, run out of gas or need a battery jump. With Trip Interruption, if your bike is disabled in a covered collision more than 100 miles from home, you'll get up to $100 per day for lodging, $50 per day for meals and $50 per day for transportation, for up to four days or $500. (If you purchase this coverage and need help on the road, call the Towing and Roadside Assistance Line at 1-800-330-3103.)
Higher Limits on Optional Equipment Coverage. In addition to the standard $3,500 limit, you can buy extra coverage to increase your limit if you have more optional equipment.
Increased Liability Limits and Medical Payments Coverage Limits. You can purchase higher liability limits and Medical Payment coverage limits too.
Transport Trailer Coverage. Provides coverage for a trailer specifically designed to transport your motorcycle (valued up to $7,500).
Annual Policies
Seems like excellent value. I shopped around a lot and the AARP (Motorcycle Insurance Program from) Foremost was the best coverage for cost I found.
Steven F., Kirkland, WA
Our annual policy lets you enjoy year-round coverage with no lay-up period. If the road is calling to you on a beautiful winter day, rest assured that you're covered. No extra phone calls, no hassles!
For years, motorcyclists have tried to save money by canceling their policies during the "off" season. The problem is, you usually have several days during the off-season that end up being perfect for riding. Then you can't ride because you don't have insurance on your bike. Or, you have to go through the extra hassle of calling your insurance company to re-instate your coverage. By the time you do that, your perfect day may be almost over!
It may also save money in the long run to keep insurance year round. Features such as Diminishing Deductible and First Accident Waiver provide rewards for those with continuous claim-free coverage.
Eligible Bikes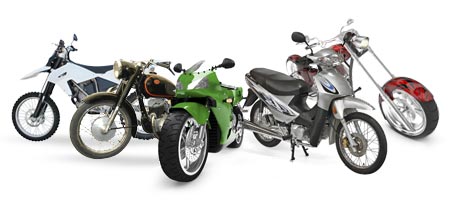 Foremost® accepts a wide range of cycles including:
cruisers
touring bikes
sport bikes
trike conversions
custom and classic cycles
scooters and dirt bikes
A Foremost policy will cover most makes and models and give you coverages you may not find elsewhere.
Highlights
Foremost® already offers a competitive premium, but you may be eligible for discounts that could take your premium even lower, such as:
Multi-unit discount of up to 35%
Multi-policy discount
Preferred operator discount
Motorcycle safety course discount
Prior motorcycle insurance discount
Renewal discount
Anti-lock brake discount
In addition to saving money, a Foremost policy offers several benefits, including:
(I) enlightened family and friends of savings. Some are joining AARP and plan to change to Foremost to take advantage of the savings.
Michael T., Bridge City, TX
Diminishing Deductible - Each year your motorcycle is insured without a paid loss, Foremost will reduce the original deductible by 25%
Foremost First-Accident Waiver - If you qualify, you may submit an at-fault claim to Foremost and we will not take that accident into account on your future premium
Lifetime Renewal of your policy - Your policy will renew every year for as long as you want it when you meet policy guidelines
Convenient Deductibles and Payment

Plans -

We give you a choice of lower or higher deductible amounts if you want to lower the cost of your premium. You can also choose the flexible payment plan that works best with your budget. Plus, you can make a one-time payment online, enroll to view your bills, or sign-up for automatic EFT payments. We want to make it easy for you to do business with us.
Personal service you can count on
You can report a claim 24 hours a day, seven days a week, either by phone or online. Foremost's highly trained claims adjusters provide superior and prompt claim service. Many of them ride motorcycles themselves, so they know how to get you back on the road as soon as possible.
Representatives can also provide you with a no-obligation quote, set up your policy, or make changes to your policy. Just call Foremost toll-free at 1-800-752-2461 between 8:30 a.m. and 10 p.m. Monday – Friday, or 9 a.m. and 5 p.m. on Saturday, Eastern time.
Coverage Comparisons
Before you decide which policy to buy, see how a policy through the AARP® Motorcycle Insurance Program from Foremost® compares with other policies if you were to have a claim.
| What if? | Other Companies/ Policy with Minimal Coverage | |
| --- | --- | --- |
| What if I am on a day ride and my bike breaks down? | Your typical motorcycle insurance may cover a tow truck to come out, but they may not be bike experts. | Foremost's specialized towing and roadside assistance program uses professionals who know how to transport a bike and where to take it for proper repair. |
| What if I take a small spill on my bike and damage my safety equipment (goggles, helmet) beyond repair? | You may be replacing that safety equipment with money out of your pocket. | A Foremost Motorcycle policy offers safety apparel coverage, which means your replacement safety equipment is covered up to $1,500. |
| What if I purchase a brand new bike and a couple months later I have a mishap and the bike is considered a total loss? | With typical motorcycle insurance, you may not get the full value of the motorcycle that you purchased. | With the Foremost replacement cost total loss settlement option, you will be able to replace your bike with one of like kind and quality up to 110% of the purchase price. |
| What if I am involved in an accident on my bike and the other person at fault has no insurance? | Some motorcycle insurance policies would cover a replacement bike, but may not cover your medical bills; other policies may cover your medical bills, but not all the bells and whistles on your bike. | A Foremost Motorcycle policy protects you financially if you're in an accident with someone who's at fault and either has no insurance or insufficient insurance. |

Got your theft prevention kit?
Customers receive a complimentary DNA+ Forensic Coding system that helps protect your bike from theft.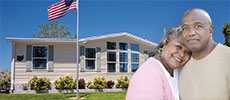 Great Mobile Home Rates
Get affordable coverage designed just for mobile homes with the AARP Mobile Home Insurance Program from Foremost.
Learn more about mobile home coverage.