Keep your holidays safe and happy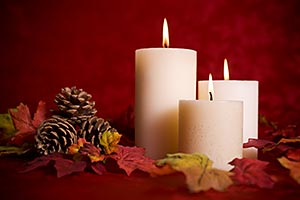 The holiday season is right around the corner — that special time of year when you brighten your home with scented candles and twinkling lights. Although decorating your home creates a cheerful atmosphere, it also brings an increased risk of accidental fire. These safety tips will help you avoid potential hazards.
Decorative Lighting
Buy only lights and electrical decorations bearing the name of an independent testing lab.
Check each set for damaged or frayed wire insulation or cords, cracks in lamp holders or loose connections.
Use no more than three strands of lights for each extension cord.
Avoid covering lights with cloth, paper or any material that is not part of the lighting.
Ensure lights you place outside are specifically labeled for outdoor use.
Connect all outside lighting to a Ground Fault Circuit Interrupting (GFCI) outlet.
Fasten outdoor lights securely to trees, your house or other firm structures — away from sharp hooks and nails.
Unplug all holiday lighting before leaving the house or going to bed.
Candles
Keep candles away from decorations and other combustible materials.
Use sturdy, non-flammable holders large enough to collect dripping wax.
Place candles where they cannot be knocked down or blown over, or where blinds and curtains can close over them.
Keep wicks trimmed to one quarter inch.
Extinguish taper and pillar candles when they are within two inches of the holder and votive candles within a half inch.
Put out all candles when leaving the room or going to sleep.
Trees
Select a tree that is fresh and well maintained. Never purchase one with dry or dropping needles.
Cut off about two inches of the trunk to expose fresh wood for better water absorption.
Keep live trees as moist as possible by giving them water every day.
If you buy an artificial tree, make sure it's labeled as fire-retardant.
Set your tree away from fireplaces, radiators and other heat sources.
Place near an outlet so cords don't have to run long distances.
Safely dispose of the tree when it begins dropping needles.
Holiday Fire Facts
According to the National Fire Protection Association, between 2009 and 2013, 210 home fires started with a tree.
One of every three home tree fires is caused by electrical problems.
A heat source too close to the tree caused approximately one in four fires.
The risk of fire is higher with natural trees than artificial trees.
More than half of home candle fires occur when something flammable is too close to the candle.
Holiday decorative lighting with line voltage is to blame for an average of 150 home fires each year.