Motorcycle Safety - Dress Right When You Ride
When getting geared up to ride, there are important factors that should influence your wardrobe. The top two are safety and comfort. Cost and fashion may come into play as well. There is gear designed specifically for motorcycle riding. It is cut longer and a bit roomier to fit over layers. It also provides the best protection from the elements with tighter wind seals at the neck, wrists and ankles, and is made from materials that will help protect you in case of an accident.
Think Safety
You should always think of safety first. Wear protective clothing designed to minimize injury in the event of a crash. The following items should be worn each and every time you ride:
Helmet
Eye Protection
Jacket
Gloves
Pants
Boots
And keep rain gear handy in the event of inclement weather
Helmets
There are several types of helmets out there such as full-face, open face and skull caps. According to the National Highway Traffic Safety Administration, riders wearing a helmet have a 37 percent better chance of surviving a crash than riders without helmets. In addition to safety, helmets offer protection from the wind and sun as well as debris and bugs.
When choosing a helmet, be sure that it is DOT approved (there should be a sticker on the helmet indicating this) and that it fits properly. Some have foam inserts that can be added to make a helmet fit more snugly. It shouldn't move around on your head easily, nor should it fit so tightly that it's painful. You also want your helmet to have good ventilation. It's a good idea to buy a helmet that is brightly colored and easily visible.
Eye Protection
If you wear a full-face helmet, you don't need additional eye protection. With an open face helmet or skull cap, wear glasses or goggles to protect your eyes. Glasses should provide UV protection and be made of a shatter-resistant material. You may need to bring more than one pair of glasses on a long trip.
Sunglasses can be worn during the day, but changed to clear or slightly tinted lenses as night approaches. Glasses help keep wind, dirt and debris from impeding your vision.
Jacket
When looking for a riding jacket, consider weather conditions and how you sit when riding. Whether or not you choose a jacket designed specifically for motorcycling, make sure it is made out of a material that will stand up to abrasion in an accident. A smooth surface will aid in sliding rather than getting caught up on pavement causing you to tumble. Thick leather and newer materials such as kevlar are sturdier than other types of materials and can protect you better.
Also consider the color of the jacket. Brighter colors make you more visible to other drivers. Before purchasing a jacket, try sitting with it on to make sure that it fits comfortably in riding position. It should be longer in the back so it doesn't ride up, but not so long that it bunches. Look for tight closures at the neck and wrists and adequate ventilation. Most riding jackets have Velcro or zippered vents. A good jacket also has a snap-in or zippered liner that can be attached inside the lining for better insulation on cold weather days.
Gloves
You may want to have summer and winter gloves if you live in an area with changing climates. Winter gloves should be thicker and insulated to protect hands from the cold. In any weather, gloves help protect your hands and wrists from rocks and bugs, as well as offering protection in case of an accident.
Pants
Whether you choose to wear riding pants or leathers over your everyday clothing, the key here is protection. Leather, kevlar and other synthetic materials used in pants designed specifically for motorcycle riding will protect you best in case of an accident. Some have hard plastic armor at the knees and hips. At the very least, wear very heavy jeans. Shorts, dress pants or athletic pants will not stand up well against pavement.
Boots
Look for boots that have tall enough uppers to cover the ankles. They should also have low heels and non-skid soles to grip the pavement and the foot pegs. Boots offer protection from things flying up off the road and burns from hot pipes.
Rain Gear
Keep rain gear ready in case the weather takes a turn for the worse. Rain gear should be compact, comfortable and easy to put on and take off. Rain gear designed for motorcycling is made a bit larger to fit over your safety gear. It also has tight closures at the neck, wrists and ankles. Consider glove and boot covers as well. Choose bright colors to ensure maximum visibility in low-visibility conditions.
Cold Weather Wear
If you live in an area with climate changes, think about what to wear in cold weather. The best bet is to layer. You can start with thermal underwear beneath your everyday clothes. Make sure you have a very warm jacket, warm socks, and insulated boots and gloves. You can also purchase electric vests, jackets or suits that provide additional warmth.
More You Can Do
Wearing the proper safety gear is the first step in safety when riding a motorcycle. Some other things you can do to stay safe when riding include:
Attach strips of reflective tape to helmets and clothing.
Purchase safety clothing with reflectors.
Invest in a high-performance horn and/or headlight.
Make sure you have soft, cloth rags and anti-fog available to clean off or de-fog your face shield, windshield or glasses.
Watch the weather before you leave and try to avoid bad weather conditions. If you get caught in inclement weather, pull over or take a pit stop if weather conditions are extremely adverse.
Wear bright colors, signal correctly and make yourself visible to other drivers.
Consider Insurance Too
In addition to doing what you can to keep yourself safe when you ride, it's important that you have the right insurance. Look for an insurance policy that offers the coverages that fit your specific bike and lifestyle. If you think your motorcycle is adequately covered when you add it through an endorsement on your auto policy, chances are you're mistaken...a lesson that you don't want to learn first-hand come claim time.
Important things to look for when choosing a specialized insurance policy for your motorcycle are things like:
Safety Apparel Coverage to protect your significant investment in helmets, leathers, gloves and any other clothing designed to minimize injury in the event of an accident.
Optional Equipment Coverage for chroming, custom painting, side cars or anything else that was not included as standard by the manufacturer.
Optional Towing and Roadside Assistance in case your bike breaks down and can't be ridden when you're away from home or you run out of gas, get a flat or have mechanical issues.
Trip Interruption Coverage that will cover meals, transportation and lodging if your bike breaks down when you're far from home.
Optional Replacement Cost Coverage on bikes purchased new and insured within 30 days.
Flexible payment plans so you can choose the plan that best fits your budget.
Deductible and coverage limit options.
Premium discounts.
The AARP Motorcycle Insurance Program from Foremost offers all of these important coverages and more with our specialized policy. Foremost has been in the specialty insurance business for over 60 years and we understand that you want to protect your investment. Foremost has specially-trained claims representatives that handle only motorcycle and off-road vehicle claims — it's not just one of the things they do, it's all they do. We have the experience and expertise to handle claims quickly and fairly.
arrow_back View more great articles from our Learning Center
The information contained in this page is provided for general informational purposes only. The information is provided by Foremost® and while we endeavor to keep the information up to date and correct, we make no representations or warranties of any kind, express or implied, about the completeness, accuracy, reliability, suitability or availability with respect to the articles or the information, products, services or related graphics, if any, contained in the articles for any purpose. The information is not meant as professional or expert advice, and any reliance you place on such information is therefore strictly at your own risk.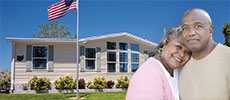 Great Mobile Home Rates
Get affordable coverage designed just for mobile homes with the AARP Mobile Home Insurance Program from Foremost.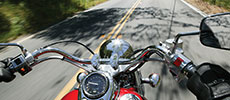 Specialized Motorcycle Coverage
Protect your bike with a policy just for AARP members.
Learn more about motorcycle coverage from Foremost.

Refer A Friend
Have a friend who may benefit from a Foremost policy?