Play it safe at your Fourth of July picnic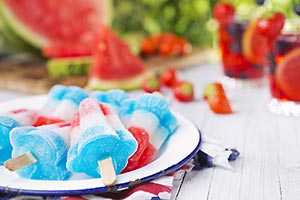 So you've got your Independence Day fare all planned out and you're ready to celebrate? Before you break out the grills and coolers, follow these quick tips for a safe, fun-filled day.
Food:
Place your cooler in the shade and keep cold food at 40 degrees or less.
Keep hot food at 140 degrees or more and store in an insulated container until ready to eat.
Pack beverages in a separate cooler from food since it's opened more frequently.
Cover food at all times to ward off the insects.
Eat cold and hot food within two hours once it's placed out for serving. Make that one hour if the temperature is 90 degrees or above. Discard food that's left out longer.
Remember the moist hand wipes to keep germs away.
Grilling:
Always grill outdoors and never in a camper, tent or other enclosed area.
Keep people and pets away from the grill.
Use long-handled utensils made for grill cooking.
Watch over the grill at all times once it's lit.
Never add starter fluid once the coals are already ignited.
Skin protection:
Wear a broad spectrum sunscreen with an SPF of at least 30. Apply 15 minutes before going outside.
Reapply sunscreen every 2 hours or more often if swimming.
Choose sunglasses with UV protection.
Stay in the shade as much as possible.
Create your own shade with a wide brimmed hat.
Apply insect repellent if mosquitos are in the area.
And above all, relax and enjoy the great outdoors as you commemorate our nation's birthday.