Reclaim Your Kitchen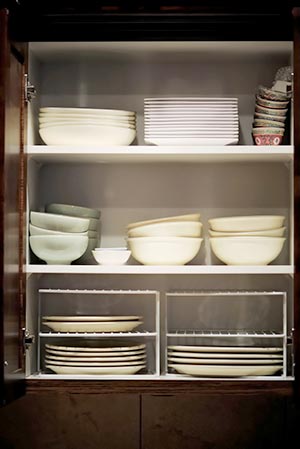 If every nook and cranny of your kitchen is filled, it's time to take a second look at your use of space. Well-planned cabinets, drawers and shelves maximize space, save steps, and eliminate frustrating searches for gadgets and tools. Follow these steps and chances are you can reorganize and reclaim more storage than you ever thought possible.
Pull everything out of each cabinet and drawer and sort through it. Discard expired or broken items and donate anything you don't think you will use.
Clean all of your shelves and drawers with warm, soapy water and wipe dry.
Get clear storage containers with lids to hold and stack items such as sauce mixes, gravy, cereal packets and hot cocoa envelopes. Clear units allow you to see what's inside without unstacking everything.
Examine each area carefully and make a list of what you need to make the most of each space. For example, pullout shelves, baskets, racks, hooks or compartmentalized organizers. Then visit a home center or discount store to purchase these items.
Install the items you bought to help you reorganize. Mount under-cabinet racks to hold mugs or stemware, hang adhesive hooks inside pantry doors to hold measuring cups or oven mitts, and consider a ceiling rack for pots and pans.
Decide where each group of items should be stored, placing food supplies and cooking utensils as close as possible to the area where you'll use them most. Arrange cookware used most often toward the front.
Designate higher shelves for lighter items such as paper plates and napkins while reserving the lower shelves for those that are heavy.
Place items with the closest expiration dates toward the front when restocking your shelves.
Remember the refrigerator! Follow these same steps with the food in your refrigerator, tossing expired items and reorganizing so you use perishables with the closest dates first.
Now that you've got everything in order, keep it that way. Return items to their designated spaces after each use and place new duplicate food items behind those you already have.