Stabilize your skirting and try some home remedies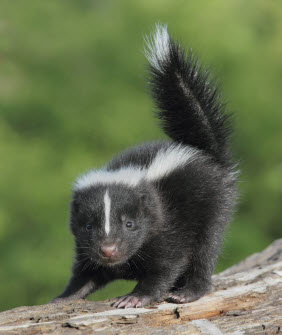 You never know when a critter may be scoping out the space under your home for a potential residence. In warmer months, skunks and snakes are seeking shade and a cooler place to dwell. In the winter, wildlife can pull insulation from the belly of your home to nest, or crawl into the belly itself to stay warm.
Sometimes, squirrels and chipmunks decide to chew the wires under a home. If those bare wires arc, they could cause a fire.
A few adjustments to your home's skirting and some old fashioned solutions can keep animals from invading beneath your home.
Adjust your skirting
Vinyl skirting is pliable – it's the nature of the product. To lessen the chances of animal intrusion, you can make it more difficult for animals to get in, such as:
Consider installing a plywood backing behind the skirting. When you make entrance to the space under your home more difficult, it's likely the animals in your neighborhood will find an easier place to hang out.
Trench under your skirting into the dirt and install a galvanized metal mesh. This will foil burrowing animals like gophers and other rodents. Often mobile home repair businesses or park maintenance personnel can help with this type of project.
Try some home remedies
Spread old-fashioned mothballs under your home and in burrowing holes. Critters don't like the smell and chances are, they'll stay away.
Sprinkle cayenne pepper or other hot pepper spices around the perimeter of your home to create another scent barrier animals are quite sensitive to.
Place heavily scented dryer sheets under your home. Not only do animals dislike the smell, lots of insects are repelled by it as well.
While you don't need to harm the animals that hang out near your home, taking measures to keep them out from underneath it is a good exercise for your comfort and safety.
Now that you know how to keep the wildlife away, find out how to keep bugs from invading your home.