Staying Warm on Your Motorcycle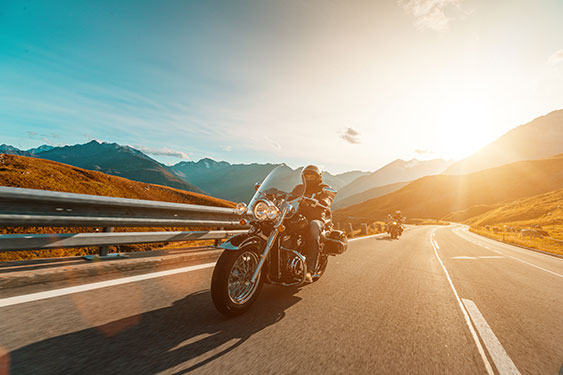 Most bikers hang up their helmets when the temperature drops, but the dedicated crowd rides on. They say the key is staying warm and toasty.
The temperature feels colder when you are piercing through the air at high speeds, but heated motorcycle accessories and the right apparel can help keep you comfortable during cooler rides. Try these tactics to stay warm during the colder months!
Full-Face Helmet
For the colder months, a full-face helmet may be your best friend. The enclosed design helps prevent wind and rain from hitting your face. The best options may fit tight to provide proper insulation.
Balaclava
Also known as a ski mask, this garment keeps heat under your helmet to keep your head, face and neck warmer. Look for a balaclava made of wool, (one of the best fabrics for insulation) but also one that is specifically designed to go under a helmet (for safety).
Neck Sock
As you layer up the rest of your body, remember to keep your neck warm. Body heat will escape through any inch of skin left uncovered, so bundle up with a neck sock under your helmet/jacket.
Socks
Socks are super important. Toes, like fingers, are one of the first parts of your body to feel the cold. Invest in thick wool socks to trap in the heat!
Heated Grips
Rider's hands are subject to extreme cold. Sitting out front in the direct wind stream, fingers are often the first part of your body to show symptoms of cold-related issues. Heated grips are a reliable source of hand warmth, no matter the weather.
Waterproof Gloves
Heated grips are great for the cold, but they won't help much in wet weather. Rain or spray from slush can soak your gloves, making them useless. Try gloves that are wool-lined with a weatherproof exterior to help keep your hands warm and dry.
Rain Suit
Even if it is not raining, some rain suits help block the wind to keep you warm. It's a good idea to keep a rain suit under your seat in case of emergencies. Rain or cold weather can pop up unexpectedly, especially during a long road trip.
Newspaper
Speaking of unexpected weather … if you find yourself riding in the unanticipated cold with no gear, stop somewhere to pick up a newspaper. Put the paper under your jacket and pants to create a barrier from the wind. It's a DIY trick and it won't be perfect, but every little bit helps when you're in a pinch.
Heated Gear
Jackets and gloves can come equipped with internal heating systems. If you get cold easily, this may be a good option for you. These items use power from the bike, so make sure your engine has enough power to handle any accessories.
Heated Seats
It is important to keep your body temperature at 98.6 degrees. If it falls below 95 degrees, you are at risk of hypothermia and can experience symptoms such as slow breathing, confusion and slurred or mumbled speech.1 One way to help prevent this is to warm your core with a heated seat — which can be added to your current bike or purchased in a new bike if you are looking to upgrade.
In addition to having the proper gear, make sure to eat before you head out.2 Both food and fluids play a huge role in fueling your body and keeping you warm. You may not feel thirsty while riding in cold weather, but you can still lose fluids through your sweat and when you breath. If you ever feel too cold during your ride, get off the road and find somewhere warm to rest.
Now that you have these tips, get the most out of your bike with year-round riding! Just remember to be safe and, most importantly, have fun.
https://www.cdc.gov/disasters/winter/staysafe/hypothermia.html
https://medlineplus.gov/ency/patientinstructions/000866.htm
View more great articles from our Learning Center
The information contained in this page is provided for general informational purposes only. The information is provided by Foremost® and while we endeavor to keep the information up to date and correct, we make no representations or warranties of any kind, express or implied, about the completeness, accuracy, reliability, suitability or availability with respect to the articles or the information, products, services or related graphics, if any, contained in the articles for any purpose. The information is not meant as professional or expert advice, and any reliance you place on such information is therefore strictly at your own risk.